Progress Kitesurf Cabarete
A propos de
Progress Kitesurf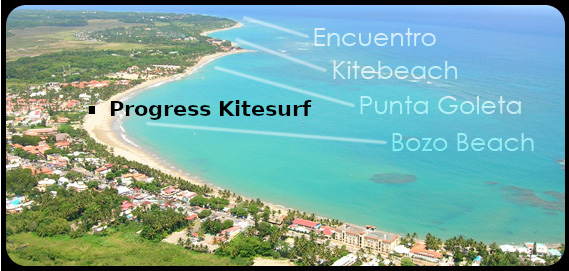 Ecole de Kitesurf en Pole Position
Progress Kitesurf a le meilleur emplacement juste au début de la zone de kitesurf et dans le centre ville de Cabarete.
Leçons de Kitesurf
Notre
Programme de Kitesurf
Nos leçons sont structurées en 3 parties avec 2 grandes étapes – premièrement sur la plage et ensuite dans l'eau.
Ce cours de kitesurf constitue la première étape, il est essentiel pour accélérer l'apprentissage en toute sécurité. Cette leçon commence par une aile à caisson de petite taille afin d'apprendre les bases de la fenêtre de vol. Il est important de pratiquer cette étape jusqu'à se sentir en totale confiance pour diriger l'aile à droite ou à gauche, l'attérir ou la décoller. Ensuite la pratique avec une aile plus grande se concentrera sur la zone neutre de la fenêtre de vol. Cette leçon permet de se familiariser avec le gréage de l'équipement, le choix d'un bon emplacement sur la plage et d'être prêt à réagir à un quelconque danger ou circonstances pouvant survenir.
Ce second cours sera effectué dans l'eau avec une aile de taille moyenne. Cette leçon de kitesurf se concentre sur le travail de l'aile en zone de puissance et l' équilibre du corps dans l'eau. Cet exercice de maniement de l'aile dans l'eau sans la planche se nomme la nage tractée, il permet d'appréhender plusieurs éléments nouveau fournissant une meilleure maîtrise de l'aile par l'élève, augmentant ainsi son capital confiance.
Aujourd'hui le cours débute avec la théorie du water start. Après un aperçu général sur les différentes étapes du water start, des explications plus en détails seront fournis sur le maniement de l'aile correspondant à un travail dit "haut du corps" (les bras, les épaules, la tête ...) puis sur le maniement de la planche avec un travail du "bas du corps" (les jambes). Les premiers water start sont parfois difficiles mais après quelques tentatives l'exercice devient banal. Cette leçon se concentre sur une bonne synchronisation entre l'aile et la planche ainsi qu'un bon contrôle de l'aile lors de la navigation.
Etapes d'Apprentissage du Kitesurf
Nos étapes d'apprentissage du
Kitesurf
La baie de Cabarete est un lieu exceptionnel pour pratiquer et apprendre le kitesurf; En effet, elle est très sécuritaire ainsi lors de ses premiers essais dans l'eau l'élève est toujours ramené vers le rivage grâce au vent d'Est (venant de la droite). La longue et large plage permet d'enseigner le b.a-ba du kitesurf qui est la première étape avant d'entrer à l'eau. L'élève évolue à son rythme, sereinement prend confiance dans le maniement de l'aile et devient autonome en quelques jours. Notre objectif principal est de vous donner un maximum de plaisir en toute sécurité.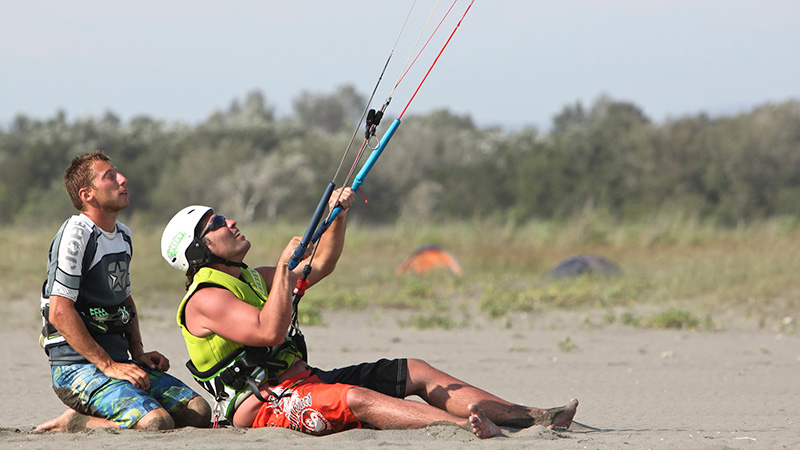 Contrôle de l'aile
Savoir gréer l'aile.
Déterminer la direction du vent, les notions "au vent" et "sous le vent".
Pilotage cerf-volant dans la fenêtre de vol.
Fly the small kite in the power area without crashing it.
Positionner l'aile entre 9 et 3 heures sur demande.
Piloter l'aile attaché au harnais avec une main.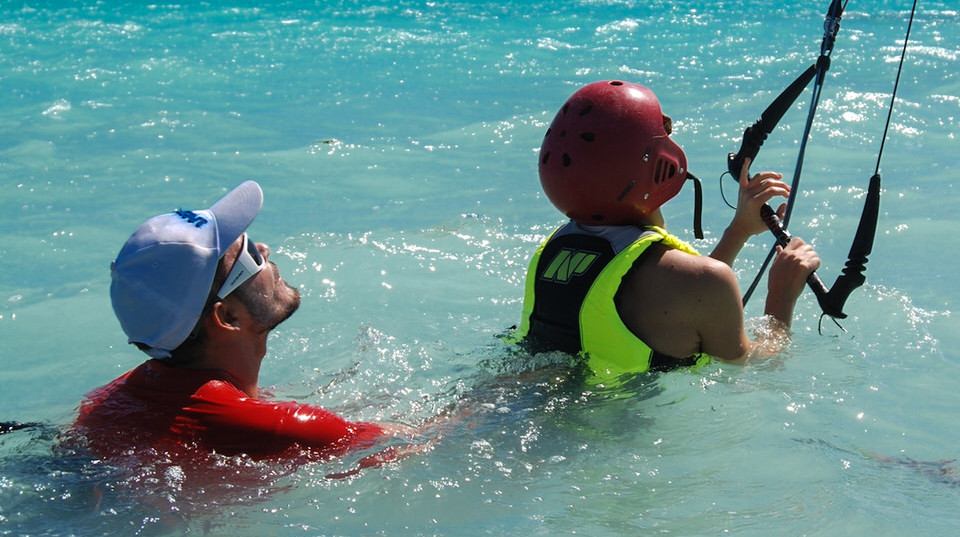 Nage Tractée
Savoir relancer l'aile de l'eau.
S'éloigner du rivage (avec un vent de coté) en effectuant une nage tractée.
Nage tractée sous le vent en utilisant la puissance de l'aile.
Retour vers le rivage en utilisant la puissance de l'aile.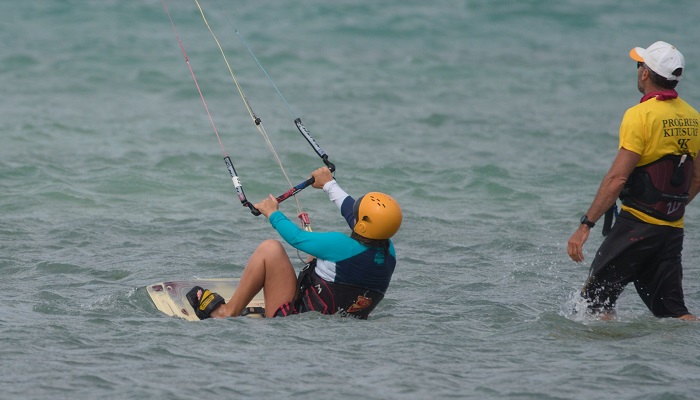 Démarrage de l'eau
Théorie du Water start.
Simulation du water start sur la plage.
Se lever sur la planche.
Début de navigation avec de petits bords tirés "sous le vent".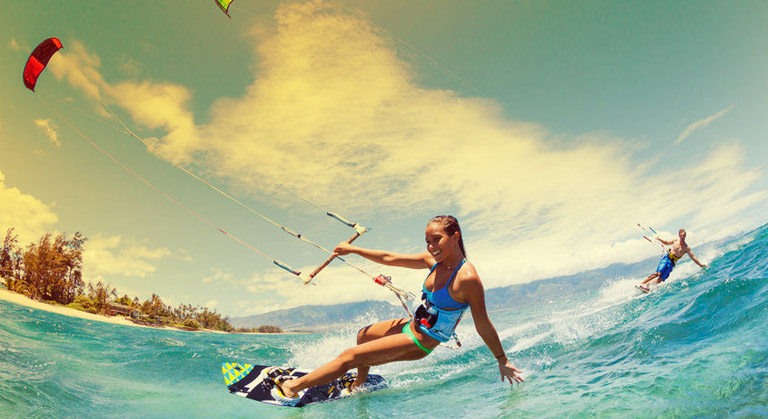 Navigation
Navigation
Bords sous le vent
Cranter sur la planche
Courte navigation au vent
Une main sur la barre
Témoignages sur Progress Kitesurf
Evaluez-nous sur
TripAdisor
Xavier L
Best place to learn kitesurf !
A meme la plage, l'emplacement de l'ecole est parfait, avec du matos dernier cri, des instructeurs d'experience et toujours dans la bonne humeur, c'est vraiment les meilleurs conditions pour apprendre le kite surf en peu de temps !
Vegas
Excellent experience, fun
Belle place, belle, ambiance, pour le Kitesurfing, la page est magnifique, tout pleins de gens dans la mer en kitesurfing
Jul J.
Great Kitesurfing experience
Very professional school and the lessons given by Yohan were perfect as he was really patient and he adjusted his methods and lessons to make me an independent kiter. The school location is also one of the best as it's in the city center. I highly recommend Progress Kitesurf.
Dane B.
Awesome experience
I BIG thank you to my amazing kiteboarding instructor Andrea as well as the rest of the crew at Progress Kitesurfing. During my week spent in Cabarete I attended a 3 day (2 hours per) beginners lesson. The instruction was very safety oriented, contentious and attentive at all times. By the end of the 3 days I can almost (so close!) stand up on the board. I was really hoping for a 4th or 5th day but the wind just didn't cooperate those days. Note to other travelers - don't pass up a good wind day (as I did) because you're not guaranteed those everyday. Although I didn't shop around prices or services at other locations; we did walk the beach everyday and noticed the lessons given elsewhere. Based on what I saw, I know we made the right choice at Progress and look forward to coming back in the future to continue my training. Excellent kite surfing lessons, focus on safety and very fun environment. Great for all ages. All professionals very well prepared and have a great teaching process.
Jack L.
Relaxed, friendly & professional.
I have taken classes elsewhere, as had my friends, and on comparison Yohan and Alan at Progress really marked a difference. I was a complete beginner but Progress really was made, and fast. My friends, on hearing how much Alan & I covered in just 1 class, were peeved they had gone with another school. Alan was patient and very clear in his explanation of technique and theory- an excellent teacher with French, perfect Australian English (what a place to perfect your English!) and Spanish. Unfortunately we ran out of wind before I could complete the course, but Yohan was happily offered those missing classes anytime I come back to Cabarete. Which I will. Highly recommended.
Tarifs des leçons de Kites
Nos
Tarifs
Concernant les Trips (Punta Rucia, La Boca, Buen Hombre... ), Downwinds, Réparations, Lockers ... contacter nous, nous serons heureux de vous aider.
F.A.Q
FAQ -
Questions fréquentes
Contact
Contact Us
We're here to help and want to hear more from you!
Progress Kitesurf Address
Cabarete Beach, Cabarete, 57000
Email Us
progresskitesurf@gmail.com